Partnering to Preserve Belize Maya Forest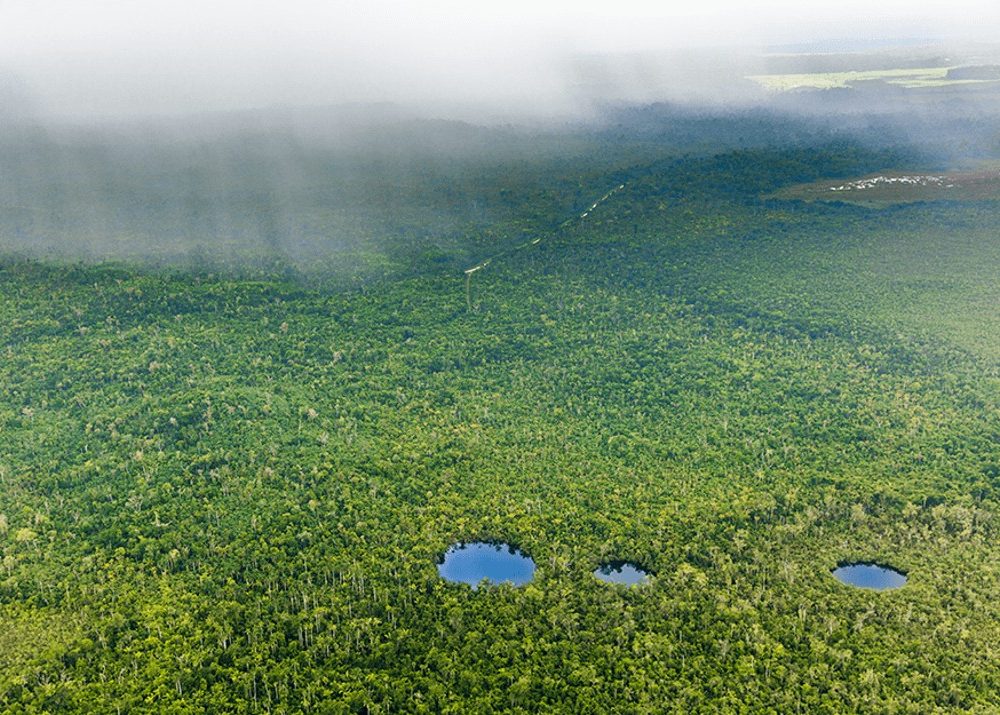 236,000 acres of imperiled tropical rainforest now protected, boosting climate efforts and securing vital habitat for charismatic species including jaguar
Decades ago, a radical idea was born to protect the Maya Forest in Belize. What if NGOs, the government, community leaders, and businesses could form a coalition to conserve one of the world's last remaining pristine rainforests?
Today, that dream is a reality with more than a dozen organizations coming together to protect 236,000 acres of land that represents an irreplaceable linchpin in the conservation of the largest remaining tropical forests in the Americas, outside the Amazon. This new protected area is contiguous with and nearly doubles the size of the adjacent Rio Bravo Conservation Management Area previously protected through efforts led by The Nature Conservancy. Combined, it represents 9% of the landmass of Belize and secures a vital wildlife corridor in Central America's dwindling forests.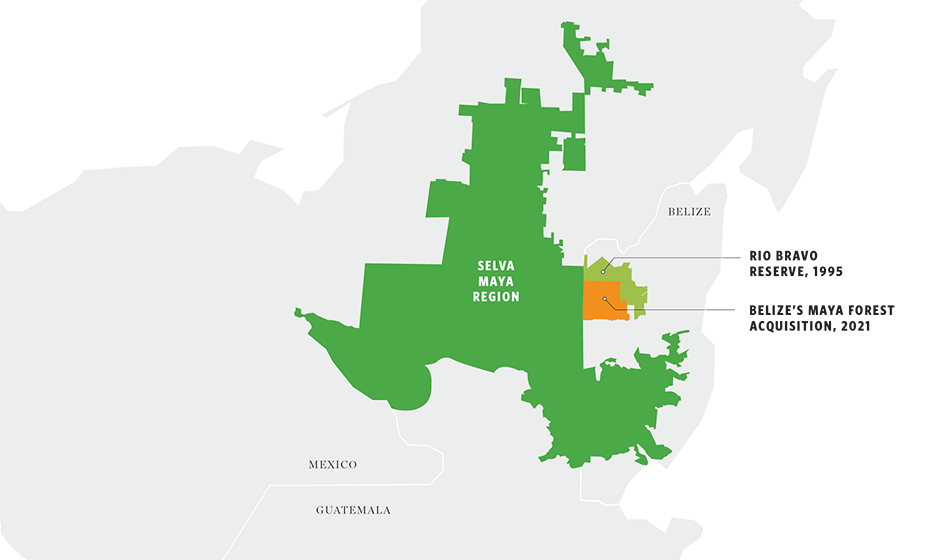 Together, these new protections will fill a critical gap in a vast forest network called the Selva Maya – 38 million acres of forest that includes 11 million acres of parks and protected areas across Central America. Belize has been at the forefront of land and ocean conservation; combined with previously protected areas, almost 40% of Belize's land mass now has some level of protection in place.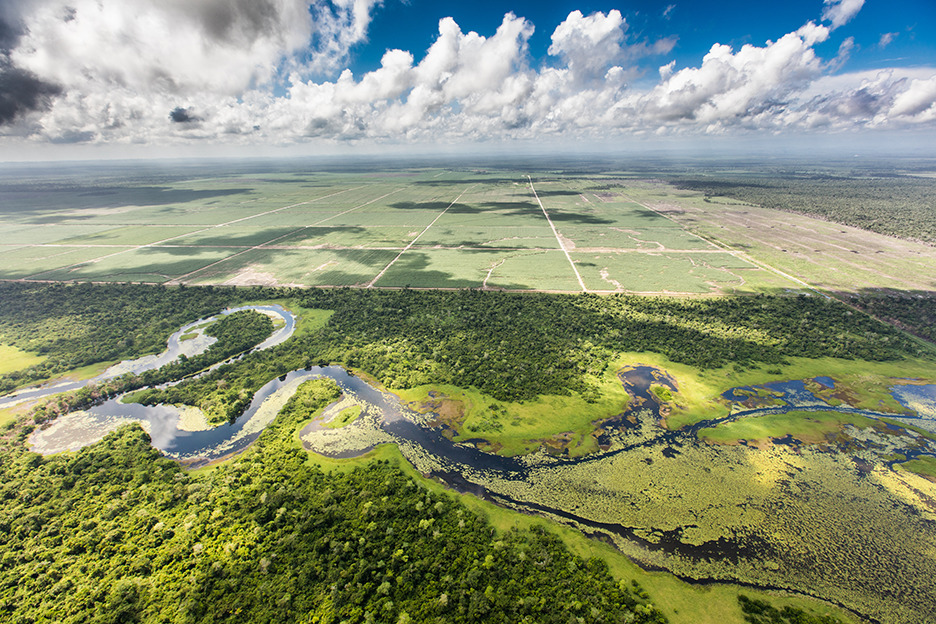 "The Belize Maya Forest project allows us to fulfill further our goals of reducing pressures on biodiversity, improving mitigation and adaptation to the impacts of climate change as well as our goals of sustainable management of ecosystem for the goods and services they provide," says Hannah St. Luce-Martinez, director of Belize's National Biodiversity Office.
Since 2011, the Maya Forest Corridor that connects Belize's Maya Mountain Massif to the Belize Maya Forest has faced deforestation rates almost four times the national average, driven primarily by clearing land for industrial-scale agriculture. That was the fate that seemed very likely for this tract of land as well. Securing protection for this climate and nature-critical ecosystem means preserving habitat for some of the world's most iconic wildlife species like jaguars and ocelots, as well as preserving a significant living carbon reserve that represents a natural solution to climate change. This project is a premier example of this sort of solution, preserving significant amounts of sequestered carbon, that would otherwise be lost due to deforestation, while offering valuable co-benefits, especially to biodiversity.

"In a warmer, more crowded world, the last best places to protect nature for biodiversity and climate solutions are mission critical," said Dr. Jeffrey Parrish, Global Managing Director for nature protection at The Nature Conservancy. "Innovative and collaborative protection of nature is essential not only for the survival of species like jaguars, but also for sustainable livelihoods, clean air, water security, and for addressing the climate crisis."
Natural climate solutions are conservation, restoration and improved land management actions that increase carbon storage or avoid greenhouse gas emissions in landscapes and wetlands across the globe. Combined with innovations in clean energy and other efforts to decarbonize the world's economies, natural climate solutions offer some of our best options in the response to climate change.

"Saving ecosystems like the Belize Maya Forest is critical if we're to succeed in rebalancing humankind's relationship with the natural world and avoiding the worst impacts of climate change," said Edilberto Romero, executive director, Programme for Belize. "Not only will this partnership secure the future of a vital missing piece of the protected area puzzle in Central America's irreplaceable forests – but also secure the livelihoods of those communities who, like the iconic jaguar and other charismatic species, depend on this precious region for their survival."
The Belize Maya Forest is a tropical biodiversity hotspot, home to 200 species of trees across a patchwork of forest, savanna and wetland, as well as over 400 species of birds, over 100 of them migratory. Charismatic megafauna that depend on this precious ecosystem include tapir, howler monkeys, and spider monkeys – together with some of Central America's largest surviving populations of jaguar, puma, margay and other native cats.
Partners who made the Belize Maya Forest conservation project possible through years of effort include: Bobolink Foundation, Cornell Lab of Ornithology, Cleary Gottlieb Steen & Hamilton LLP, Corozal Sustainable Future Initiative, International Tropical Conservation Fund, Gallon Jug Estate, Global Wildlife Conservation, Mass Audubon, Programme for Belize, Symphasis Foundation, The Nature Conservancy, Rainforest Trust, University of Belize Environmental Research Institute, Wildlife Conservation Society, World Land Trust and Wyss Foundation.
"Protecting land, like this vast and irreplaceable Maya Forest in Belize, is the critical first step in halting extinctions and stabilizing our climate. It can only happen through partnerships, and Rainforest Trust is committed to helping replicate this success worldwide."
– James Deutsch, Ph.D., CEO, Rainforest Trust
"This project is an example of remarkable conservation action, with innovative financing, innovative partnerships, and unusual levels of collaboration. Most importantly, it ensures a future for a very special corner of the planet and the extraordinary biodiversity it shelters."
– Wendy Paulson, Chairman, Bobolink Foundation
"This enormous forest tract is a linchpin for large scale conservation of the Mayan Forest, but its future hanged in the balance for decades. Permanent protection of this huge parcel contributes all-important connectivity and scale for preserving the largest tropical forest ecosystem in Central America."
– John Fitzpatrick, Director, Cornell Lab of Ornithology
"After more than 30 years of efforts in Belize to protect its precious seasonal and dry forests, I can only applaud the giant step forward that has been taken with the creation of the Belize Maya Forest. Over the past decade, we have been able to measure the impacts of climate change in the northeast of Belize, a change that has clearly been exacerbated by the significant deforestation occurring in the area. On a regional level, losing the 1000 sq. km of the Belize Maya Forest would have had a very significant impact on future rainfall patterns. It was therefore completely logical that we try and do our part to help protect it. The fact that so many organizations have worked together to save this highly important forest hopefully paves the way towards more collaborative efforts in order to answer one of the greatest emergencies of the 21st century: making sure that all remaining intact forests on our planet remain standing."
– Caspar Bijleveld, Secretary of the Board, International Tropical Conservation Fund (ITCF)
"This property has always been an important piece of Belize's history, and thanks to TNC and their local and international partners, this forest will always stand for the people of Belize, the conservation of critical habitat and as an example of what a focused public-private partnership can accomplish."
– Michael H. M. Bowen, CEO, Gallon Jug Estate
"This partnership, led by TNC, has rescued a remarkable property. This is a globally significant project, and will help further guarantee the natural heritage of Belize, and will also serve as a model for other large-scale habitat protection initiatives in the region. This comes at a time when the wildlife and people of Central America, like the rest of the world, are under growing threat from a changing climate. Simply put, the scale, scope, and timing of this project is breathtaking."
– David J. O'Neill, President, Mass Audubon, which in 1988 founded the independent Belizean nonprofit organization Programme for Belize
"In a warmer, more crowded world, the last best places to protect nature for biodiversity and climate solutions are mission critical. Innovative and collaborative protection of nature is essential not only for the survival of species like jaguars, but also for sustainable livelihoods, clean air, water security, and for addressing the climate crisis."
– Dr. Jeffrey Parrish, Global Managing Director for Nature Protection, The Nature Conservancy
"WLT is delighted to be part of this coalition saving this vital forest. We were founded 30 years ago to help Programme for Belize save the Rio Bravo Conservation and Management Area, so to see this conservation action expand across the region to save more land and more species is incredibly exciting. All of us at WLT are passionate about the difference that collective action can make against the climate and extinction crises and in a pivotal year for both, this alliance for Belize blazes a trail for what individuals, organisations and governments can achieve when we come together for nature."
– Dr. Jonathan Barnard, CEO, World Land Trust
"When I launched the Wyss Campaign for Nature, my goal was to catalyze the efforts of local people and governments working on all corners of the planet to accelerate the pace and scale of land and ocean protections. It is why I approved funding to protect the Maya Forest Reserve from the threat of deforestation. And it is why I proposed expanding my support of conservation efforts in Belize, working alongside communities, civil society, and the government to reinforce Belize's position as a global leader in the protection of nature. Together, we can safeguard Belize's incredible biodiversity and contribute to protecting at least 30 percent of the Earth, on land and at sea, by 2030."
– Hansjörg Wyss, Chairman, Wyss Foundation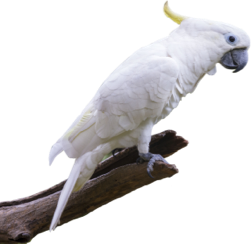 Sign up to receive the latest updates
"*" indicates required fields