Rainforest Trust Partners
International Crane Foundation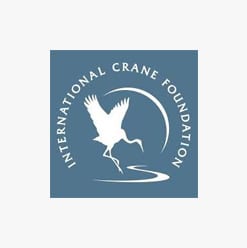 International Crane Foundation
Rwanda
The International Crane Foundation (ICF) works worldwide to conserve cranes and the ecosystems, watersheds, and flyways on which they depend. ICF provides knowledge, leadership, and inspiration to engage people in resolving threats to cranes and their diverse landscapes.
While working to solve threats to cranes, ICF has found that these charismatic birds inspire actions to resolve broader conservation challenges that matter deeply to all people and address the universal challenges we face as a society—water security, clean energy, land stewardship, conservation on agricultural lands, adaptation to climate change, and conservation friendly livelihoods. ICF's worldwide work includes captive propagation and reintroduction, research and monitoring, invasive species management, sustainable water management, wetland protection, outreach, conservation leadership, and work to reduce crane trade, illegal shootings, and power line collisions.
Looking to protect an area?
Do you work for an organization specializing in tropical land protection? Join our efforts to protect imperiled landscapes and stop species extinction.
Apply for Funding
Apply for Funding