Dr. Douglas Daly
Council Member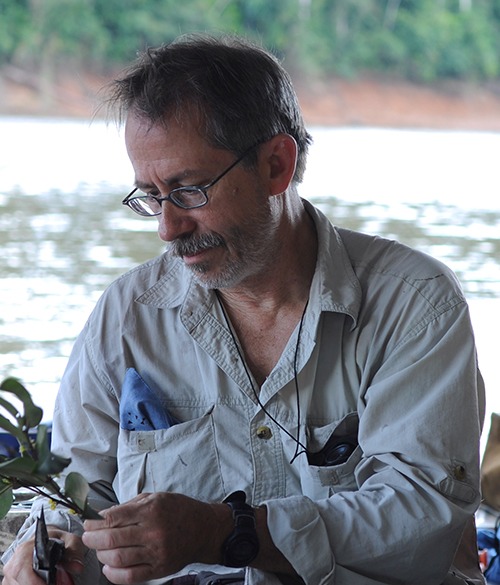 Douglas C. Daly is Senior Curator and Curator of Amazonian Botany at the New York Botanical Garden.  Over more than 40 years, he has led or co-led more than 100 botanical expeditions, most of them in Amazonia but also including Madagascar, Myanmar, Vietnam, Borneo, Papua New Guinea, the Caribbean, and the Andes.  He is a plant systematist whose mission has been to bring his science to bear on urgent issues facing tropical forests and peoples.
His work on the flora of Acre the Southwestern Amazon led to the publication of the first catalogue of an Amazonian state; it also provided essential baseline data for the designation of and management plans for protected areas.
He was part of a group that codified leaf venation patterns in the landmark Manual of Leaf Architecture, a largely untapped morphological data set but also one of a battery of tools for tree identification he and his colleagues in Brazil have been developing for improving forest management practices.
His systematic work on the Burseraceae—one of the ten most important tree families in Amazonia—has led to publication of over 100 species new to science; more importantly, he and collaborators have been using the Burseraceae as a model organism for better understanding of speciation mechanisms and patterns of diversity in Amazonian trees, with implications for conservation.
One of his biggest priorities is training and mentoring at multiple levels (mostly in Brazil) including undergraduates, high school interns, master woodsmen (parataxonomists), and doctoral students.  He has assembled a team in Brazil that provides training for forest communities in tree inventory and identification so they can monitor the forests for which they are responsible.
Recently he has been taking greater interests in forest restoration, valuing biodiversity, and estimates of standing carbon.
Douglas graduated from Harvard College with a Special Concentration in Botany, with the great Amazon explorer Richard Schultes as his undergraduate advisor.  After three months of field work with Alwyn Gentry in Peru and Colombia, he moved to New York to join the Green Guerrillas and worked in a community garden program in the rougher parts of the city.  He then returned to academia and did his Ph.D. with another great Amazon explorer, Ghillean Prance, in the joint New York Botanical Garden (NYBG)-City University of New York graduate program.  After defending in 1987, he joined the research staff at NYBG, where he remains.